The Best Sustainable Fashion Brands That Are Good For Our Planet
The best way to be truly sustainable when it comes to clothing is to buy second hand. But if you prefer something new, sustainable fashion brands can be a great choice when it comes to reducing your carbon footprint while ensuring that the people behind your dresses, bags, and jeans are treated fairly. Here are some of the sustainable fashion brands that are pretty expensive but are guaranteed to last longer, which is good for our planet, too.
Knickey is an NYC-based brand that uses GOTS-certified organic cotton ideal for both environmental and reproductive health reasons. The brand uses high-quality natural materials that biodegrade, and its workers are safe because they prohibit the use of pesticides and only use natural fertilizers in their products. Additionally, Knickey also partners with a NY recycling company to recycle old tights, socks, and underwear from other brands and keep them out of landfills.
Christy Dawn is known for its handmade flowy floral dresses that come from upcycled materials in Los Angeles. The brand also supports an essential climate solution that's called regenerative agriculture, which means the carbon is out of the atmosphere and then locks it down into the soil.
Babaà is a Spanish brand that sources the wool for its chunky sweaters from northern Spain. Most of their cotton comes from organic farmers in Andalucia that are spun and dyed by Spanish artisans. Their yarns are never mixed with acrylics or any other synthetic fibers, which means their product is biodegradable and can last a long time.
Stella McCartney is a sustainable fashion trailblazer that is always investing in new fabrications and doing cool things. The designer is known for its innovative plant-based leathers, which also includes one that's made from mushrooms.
M.Patmos is a Brooklyn designer who is favored for its brand's classic wardrobe staples and face masks. M.Patmos also uses organic materials and innovates with dead-stock fabric to help eliminate waste.
Nicholas K is a company run by a brother-sister duo that uses undyed natural fibers and vegetable dyes from leaves, roots, bark, and berries. Everything from Nicholas K is so versatile and comfortable and truly designed for the female body.
Marimekko is a Finnish company in which all of the fabrics have colorful and bold patterns that are screen printed by hand in Helsinki in a facility that runs on biogas and renewable electricity. The majority of the printed fabrics are OEKOTEX- certified.
Lotuff Leather is a Rhode Island-based company that uses vegetable-tanned leather from a generations-old tannery in South America. Vegetable tanning, as opposed to chrome tanning, reduces pollution in the environment and allows the tannery to reuse water again and again. Any residual leather bits from this process, as well as natural dye runoff, is turned into fertilizer bricks, which are then used to supplement a nearby Eucalyptus grove that also provides raw materials for the tanning process.
UnicoEye makes your eye visually attractive!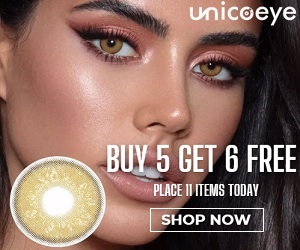 UnicoEye is dedicated to provide high quality, good-looking contact lenses with a wide range of fashion colors and styles. With Unicoeye, your eyes will look bigger and more attractive visually, or you can change your makeup styles to make your face more lovely. Buy every contact lens you want and get the best care and service plus discount deals when you visit unicoeye.com today.
Tags :
UnicoEye