Chic Sweater Outfit Ideas For Fall
Brisk air means you need to upgrade your wardrobe for new stylish sweaters for this season. If you love wearing outfits that are warm and cozy, you're probably thrilled that the best time to do is finally here. Sweaters range in different styles and options, plus you can mix and match to make new different looks. Whether it's your oldest sweater or the trendiest, there are many choices to look your best in this season. Below is the list of sweaters that will keep you looking warm despite the cold air.
Even the basic black sweater can come to life when paired with the right accessories. Pair your black sweater with a matching black handbag and black boots, as well as with jeans and silver jewelry. Finish your outfit with a cute scarf to your outfit.
For the cold season, the perfect way to stay warm and cozy is by wearing layers. For a more than one hot style look, wear a cable knit sweater and put on a wraparound overtop.
During spring and summer, crop tops and high waisted shorts were a thing. To keep that look in this season, a wool pea coat is perfect over your cropped tops for a little warmth.

A cute beret may be hard to pull off. Go with classic styles and neutral colors for an easy look. A neutral tones turtleneck paired with plain pants can make this outfit stylish for everyone.
Complement those same pants with a neutral striped cardigan and boots. Pair two or three neutral shades together to break up the look without going too much.
Combine your favorite pieces for an eclectic look. A pair of kicks and a beanie will give you a sporty look while wearing a pink sweater adds an extra feminine touch. A basic button up and glasses can give you a smart vibe for acute and diverse outfit choice.
Compliment a trendy off the shoulder sweater with a checkered skirt for a more professional look. Wear simple makeup to help your outfit stand out and add some knee-high boots for a modern look.
This look would be adorable for almost every occasion. Instead of high heels, wear flat boots during school and change back after for a cute look, you can head to a fall festival or a mall.
A tan pullover sweater looks sassy with a brown leather jacket and matching boots. Pair a pink sweater with white leather or a gray with black. Add a large handbag to match the cuteness of your outfit while securing all of your items.
A statement piece always works regardless of what the season is. Even a simple long-sleeved tee can look extra fashionable when paired with the right jeans while adding a red handbag to your outfit. Finish the look by adding trendy pieces to your style.
Pair your trendy sweater with some of your favorites. Compliment your new sweater with comfy jeans and with your favorite slip-on sneakers.
Be fashionable in every season with Klass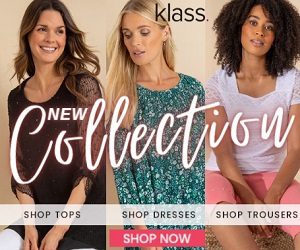 Klass has a fantastic range of stylish and sophisticated yet affordable and coordinated ladies fashion in sizes 10 to 22. The womenswear range brings the latest fashion trends in an adaptable collection for all ages, for every of occasions from casual to evening looks including dresses, tops & blouses, coats & jackets, skirts and trousers and a coordinated range of accessories. For new arrivals and special deals visit klass.co.uk today!
Tags :
KLASS